Cyclists vulnerable to bicycle accidents in the city, says bicycle accident lawyer Toronto
More than one bicycle accident lawyer at Verkhovets Law, personal injury lawyers, knows the City of Toronto has undertaken several safe cycling plans for more than a decade in a bid to improve infrastructure and make riding a safer and more viable mode of transportation. But cycling advocates are ringing the bell that there's still a long way to go before the targets are met and riders aren't as exposed to the prospect of bicycle accidents. And e-bicycles and e-scooters are equally vulnerable to bicycle accidents, too.
According to news reports, Toronto has made inroads, but the city is dragging its feet on building protected bike lanes and fixing up existing old ones that are riddled with frightening wear-and-tear hazards, notes an experienced bicycle accident lawyer Toronto at Verkhovets Law.
Of the 5,400 km of roads in the city, 200 kms (four per cent) have bike lanes, says a Toronto Star article. And there's little to none in North York, Scarborough, and Etobicoke ­– making riders in the GTA prey to more bicycle accidents. Every best bicycle accident lawyer in Greater Toronto knows this to be true.
One bicycle accident lawyer Toronto at Verkhovets Law points to a Rabble.ca report that says the city's cycling network is "under-connected." The online news outlet notes Toronto is "behind in creating a safe cycling culture." And every leading bicycle accident lawyer knows this, too.
The city's own goal to lessen bicycle accidents under the 2022-2024 Near-Term Implementation Program is to build 100 km of protected bicycle lanes by the end of 2024, says a CBC story. Quoting a report from the Toronto Community Bikeways Coalition (TCBC) the article notes that's an average of 33 km per year – in 2022 about 13.1 km of the lanes were opened.
It remains to be seen what emerges by 2024, say our Toronto bicycle accident lawyers, but the TCBC media release in January 2023 said the city is "falling behind on its commitments to install dozens of kilometres of protected bike lanes," adding the construction is a "key component" for the city to meet climate and Vision Zero goals for road safety and reducing bicycle accidents.
Meanwhile, each bicycle accident lawyer at Verkhovets Law understands this is all in the face of concerning stats that reveal while cycling is increasingly popular for both commuting and leisure, the rise in ridership has come with a dramatic 300 per cent spike in fatalities from bicycle accidents, according to the OPP. That's alarming.
13 reasons bicycle accidents happen on Toronto streets

The Toronto bicycle accident lawyers at Verkhovets Law say the causes of bicycle accidents can be as diverse as the accidents themselves. From driver inattention or recklessness to the lack of safe infrastructure and poor road conditions, to cyclist error or equipment failure, a myriad of factors can contribute to a bicycle accident.
Mariya Verkhovets, an experienced Toronto bicycle accident lawyer at Verkhovets Law, says it's essential for both riders and motorists to be aware of the potential risks and take necessary precautions to prevent a bicycle accident and ensure the safety of all road users. Ms. Verkhovets, one of the best bicycle injury lawyers Toronto, says some of the causes include:
Distracted driving: A lack of focus, or attention by a motorist, which may be due to fatigue, daydreaming, or simply not paying attention to the road can cause a bicycle accident. This behaviour can also include distractions such as eating, grooming, adjusting the radio, interacting with passengers, texting, talking on the phone, or using other electronic devices while in motion.
Illegal and unsafe turns: When motorists make a turn without yielding to a cyclist who has the right of way or turning from the wrong lane or direction. These turns often result in a bicycle accident.
Doorings: A main hazard cyclists dread is being on the receiving end of a dooring. That's when a motorist opens their vehicle's door without checking, causing the cyclist to collide with it.
Failure to provide one meter of space when passing: The driver's side mirror or the car itself may hit the cyclist, or the rider could even be thrown into the path of other vehicles. Passing too closely can startle a cyclist causing them to swerve or make sudden movements, increasing the risk of a bicycle accident.
Lack of safe infrastructure: A lack of safe infrastructure exposes cyclists to dangerous road conditions. Without adequate bike lanes, bike paths, and other safety measures, cyclists are forced to share the road with motor vehicles that are often traveling at high speeds.
Disrepair of roads and debris: Potholes, cracks, and uneven pavement can cause a cyclist to crash, while debris such as rocks, glass, nails, screws, sand, gravel, items that have fallen off trucks, loose recycling, and pedestrian litter can also make them lose control or suffer a flat tire, say our Toronto bicycle accident lawyers.
Cutting off: The motorist may cut off the cyclist's path by abruptly changing lanes, making a sudden turn, or exiting a driveway.
Following too closely: The motorist may follow the cyclist too closely, not leaving enough space for the cyclist to maneuver or stop suddenly, leading to a bicycle accident.
Aggressive driving: The motorist may engage in aggressive driving behavior such as honking, tailgating, or passing too closely, causing the cyclist to lose control or swerve to avoid a bicycle accident.
Right hook/left hook: A right hook happens when a motorist passes a cyclist on the left and then makes a right turn in front of them cutting off their path. A left hook occurs when a driver turns left without checking and strikes a cyclist, often with the front-end of the vehicle.
Crossing into bike lanes, paths, sharrow: When a motorist or pedestrian enters an area designated for cyclists, such as a dedicated bike lane, shared lane marking [sharrow], or multi-use path a bicycle accident can ensue.
Vehicles illegally parked in bike lanes: Can force a cyclist, out into the traffic flow where there may not be enough space to ride safely around the obstruction.
Excessive speed of a car can cause a bicycle accident: This includes:
Reduced reaction time

Increased stopping distance

Reduced visibility

Wind gusts
Do these 7 critical things after a bicycle accident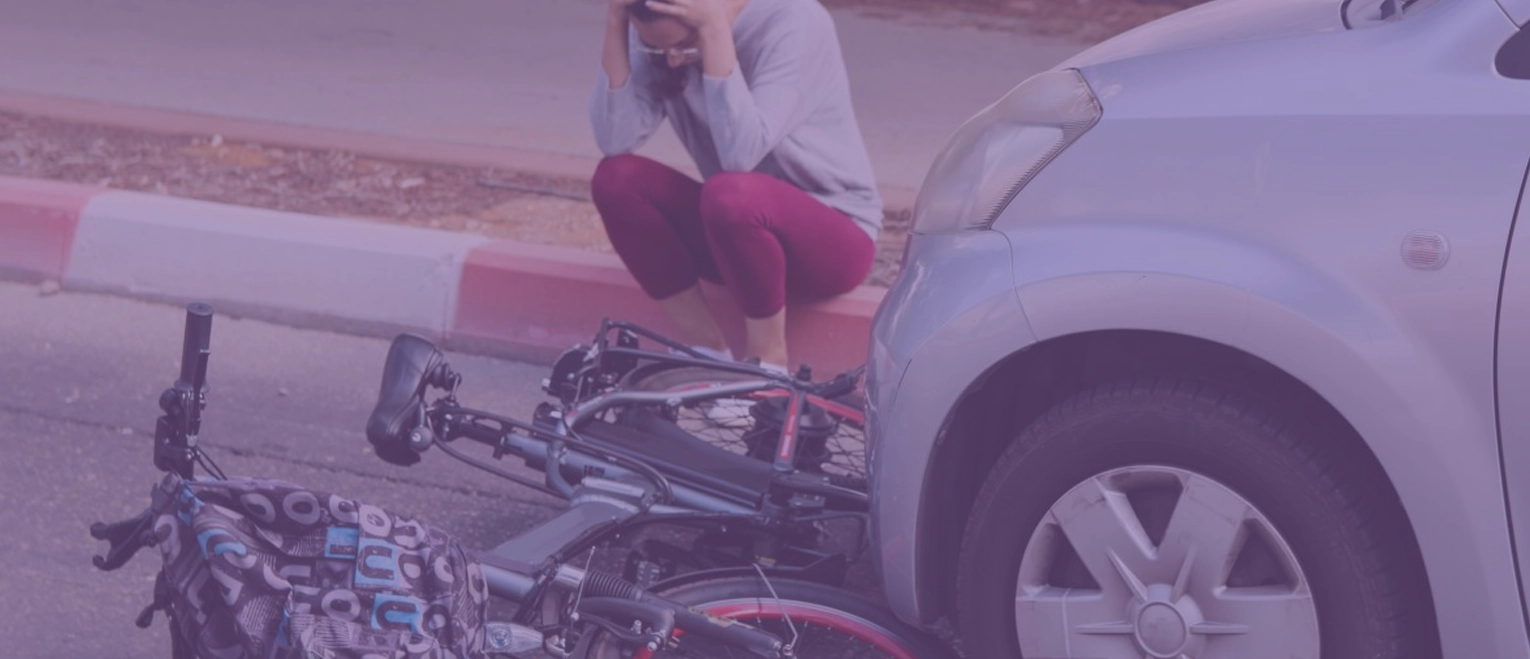 A bicycle accident can happen in an instant and may result in serious injuries, damages, and even fatalities. It's important to know what steps to take to protect your health and your legal rights.
Acting quickly and taking the appropriate steps can help ensure that you receive the medical attention you need, your bike is properly repaired or replaced, and legal issues are addressed with a bicycle accident lawyer Toronto at Verkhovets Law.
Here are the steps you should take:
Medical: If you are injured, seek medical attention immediately. Even if you feel fine after a bicycle accident, it's still a good idea to get checked out by a doctor, as some injuries may not be immediately apparent.
Police: Call 9-1-1 to report a bicycle accident. This will ensure that an official record is made of the incident.
Information: Get the name, contact information, and insurance details of the other parties involved in accidents, as well as any witnesses.
Pictures: Take photos and videos of accident scenes, including damage to your bicycle, any injuries you have sustained, and any damage to the other person's vehicle, our Toronto bicycle accident lawyers
Insurer: Let your insurance company know about a bicycle accident as soon as possible.
Records: Keep track of all medical bills, bike repairs, and other related expenses.
Personal injury lawyer: If you have been injured or your bicycle has been damaged, you should consult with a bicycle accident lawyer at Verkhovets Law.
How can a bicycle accident lawyer help me if I've been injured in Ontario?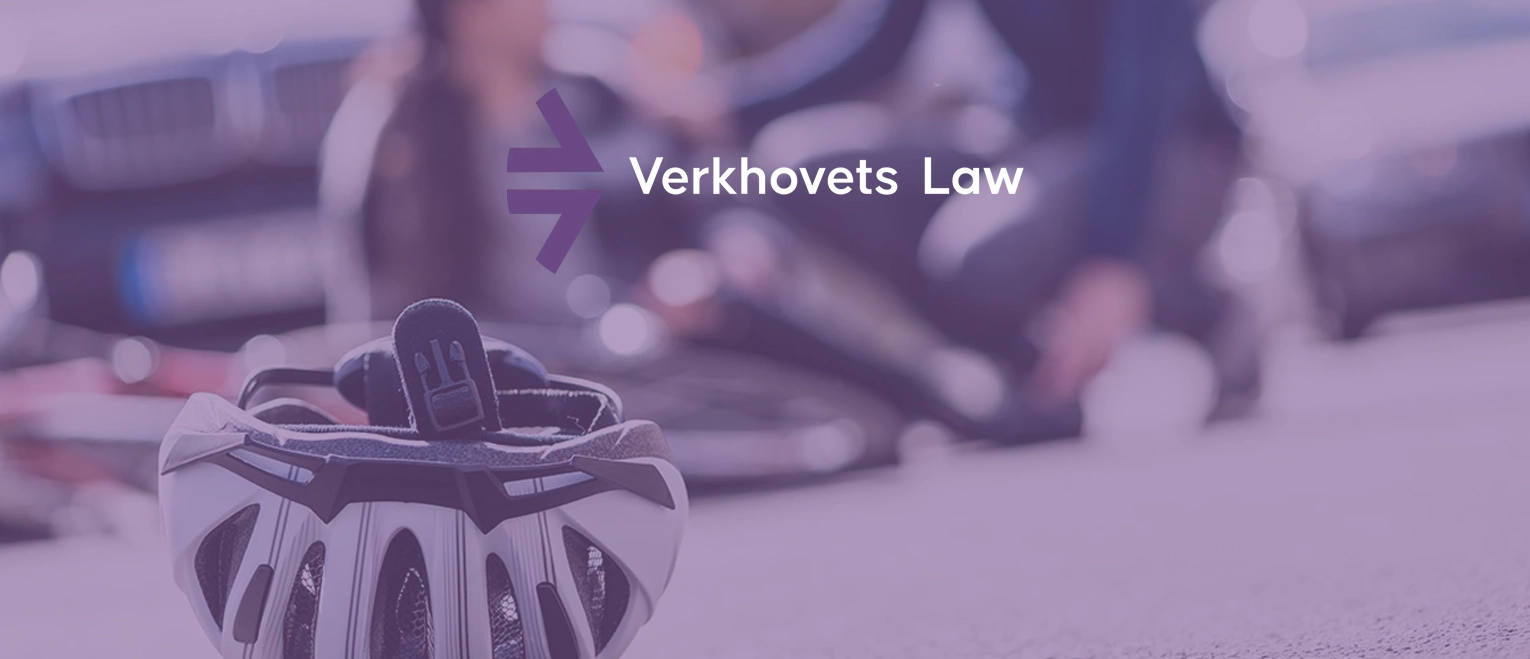 Each bicycle accident lawyer at Verkhovets Law, personal injury lawyers, have seen that even the most experienced and cautious cyclists can be involved in a bicycle accident. As cycling continues to rapidly gain popularity it's crucial for riders to know the rules of the road ­– they have the same rights and responsibilities as drivers.
It's essential to know what legal recourse is available if you're involved in a bicycle accident. Consulting with one of our knowledgeable Toronto bicycle accident lawyers can help you understand your rights and the potential avenues for compensation.
Our personal injury lawyers who specialize in bicycle accidents understand:
Next, we can help ensure you receive proper medical treatment and access to the accident benefits you are entitled to. We also deal with insurance companies on your behalf, to ensure you have access to ongoing medical treatment like rehabilitation and physiotherapy, to compensation for lost income, and compensation to modify your home for special access (such as wheelchairs, ramps, elevators, and so on).  
For every bicycle accident victim, our goal is to help you get fair compensation for your injuries.
Bicycle accidents can lead to very serious injuries
Our Toronto bicycle accident lawyers know that a bicycle accident can have severe consequences – riders are vulnerable to serious injuries when involved in collisions with motor vehicles or other obstacles.
The lack of physical protection for cyclists means that they are at a higher risk of suffering broken bones, head trauma, spinal cord injuries, and even death in a bicycle accident. The severity of the injuries sustained can be attributed to the force of impact, which is often caused by a collision with a larger and more powerful vehicle.
Injuries vary depending on what part of the body they occur:
Head and neck injuries:
Skull fracture

Traumatic brain injury (TBI) link

Whiplash

Cervical spine injury <link> [top portion of the spine, vertebrae C-1 to C-7]

Facial lacerations or fractures

Dental damage
Upper body injuries:
Shoulder dislocation

Rotator cuff tear

Broken collarbone

Broken ribs

Punctured lung

Organ damage (e.g. liver, spleen)
Arm and hand injuries:
Fractured or broken bones

Dislocated joints

Sprains and strains

Cuts and bruises
Lower body injuries:
Pelvic fracture

Hip fracture

Knee ligament injuries (e.g. ACL, MCL)

Shin fractures

Ankle sprains and fractures

Foot fractures

Road rash
Internal injuries:
Traumatic cardiac arrest

Internal bleeding

Organ damage (e.g. liver, spleen, kidneys)
7 steps to prevent a bicycle accident involving your children
Bicycling is a popular activity among children and provides many benefits such as exercise, independence, and the chance to explore their surroundings. Toronto bicycle accident lawyers at Verkhovets Law and moms, too, know it's important to ensure that your child's bicycle is safe before they set out on a ride.
Bicycles that have not been properly maintained or inspected can lead to serious accidents and injuries. As a parent or guardian, it's essential to be vigilant in checking a child's bicycle for safety and addressing any issues before allowing them to go. In this way, we can help prevent a potentially devastating bicycle accident, ensuring our children stay injury-free while they enjoy the benefits of riding.
Our Toronto bicycle accident lawyers say the checklist includes:
Check tire pressure and make sure that tires are not worn or cracked.

Check the bell or horn is working and if there isn't one, add one.

Clean and oil the chain, check for kinks, and that it's on properly.

Double check saddle height (kids grow!) and ensure the bike is still the right size.

Ensure the brakes work.

Make sure lights work and there are reflectors.

Tuck in loose straps from packs or saddle bags.
Injured? A bicycle accident lawyer Toronto can help


If you or a loved one have been involved in a bicycle accident, don't wait to seek legal help. Every experienced bicycle accident lawyer Toronto at Verkhovets Law, personal injury lawyers, will help you to navigate the legal process and fight for the compensation you deserve.
Email or phone us today and let us help you get back on your feet.